Discover top-quality Summer Barbecues:
Try Nelson Müller's great recipes and tips
Now everyone can barbecue like an expert – no need to leave the art of grilling to a few die-hard hobbyists. Today, anyone can serve top-quality, tasty, mouth-watering barbecued treats, grilled to perfection. Grilling is a passion.

And grilling is a profession, too.
The same goes for Nelson Müller from Essen: honored with a Michelin star, he kept his feet on the ground and his expert eye for quality. "Well-picked ingredients are important for tasty and healthy dishes" he states, coming back to years of experience, "but fine grilling requires the best quality above and below the grill grate." Therefore, Nelson Müller and proFagus – the only German manufacturer of barbecue charcoal – will guide you through the summer with high-quality products and tasty recipes. proFagus barbecue charcoal as well as the proFagus barbecue charcoal briquettes are produced in Bodenfelde, incorporating the environmentally friendly alembic procedure, with only untreated beechwood being used in the process. Thereby we serve the needs of professionals and hobbyists likewise.
Thanks to the perfect embers from the finest beechwood, you can try the recipe ideas of Nelson Müller right at home. His collection of grilling-tips and recipes is going to be published on a regular basis – you can find them either here or on Facebook.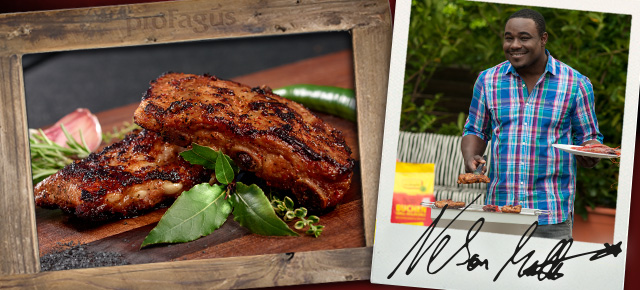 ---
About Nelson Müller
Nelson Müller is a professional top chef. He appears in star cooking shows on TV. His wonderful personality and the high quality of his cooking skills more than confirm his star status.
Directly after having completed his training as a chef in renowned restaurants in Stuttgart and on the island of Sylt, he held two consecutive positions in star-quality restaurants. In 2009, he opened the restaurant "Schote" in Essen and cooked his way to fame there in 2011 with the sought-after Michelin star.
Nelson Müller achieved national fame in Germany in various TV shows as chef and moderator. Nelson Müller's recipes are easy to follow and well-presented, always showing viewers exciting new dishes and giving advice on good quality products.